Oslo 2019 – Artists
Bra Folk
Friday April 5th at 20.00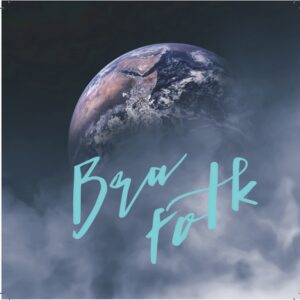 Bra Folk means Good People in Norwegian. That is not exclusively meant as a pat on their own backs, as the philosophy behind the band's lyrics is that there is good in everyone. We all pass through lighter and darker stages in life, and «Superman» is not necessarily the best of us, to paraphrase one of Bra Folk's tunes. Other songs imply that courage also might be to ask for help in times of need, or to reach out and embrace the imperfection and good intention of the people around you.
Bra Folk also means Good Folk Music, of course, and the band uses that term in a very eclectic way. All the songs are homegrown, and the roots of the project lies in singer/songwriter music. However, the 8 musicians in the band jointly encompass a love for, and experience with, a wide spectre of genres, including jazz, world music, rock, prog, funk, pop and classical music. Bra Folk has made an eponymous EP which is available online, and this summer, a full album will arrive, including a long list of guest musicians – all good people!
Armand Lengali: Vocals, guitars.
Håvard Enge: Vocals, keyboards.
Jonas M. N. Sørensen: Tuba, backing vocals.
Jørgen A.Stubberud: Accordion, backing vocals
Jørn A. Sundt: Bass
Martin Koks: Percussion, backing vocals.
Metch: Drums, backing vocals
Tobias Gustum Lindstad: Vocals, trombone, guitars.
Band Page – Facebook
BRA FOLK – CD (2017)
Bra Folk – Spotify

The Choreologist
Saturday April 6th at 20.00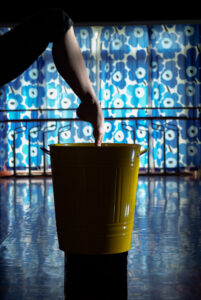 The Choreologist is a dance company established by dancer and choreographer Ingrid Sørensen after she injured her hip in 2018,and had to rethink how she workedwith dance. The company consists of freelance dancers and dance artistsJulie Schartum Dokken, Susanne Leine Brekkaand Ingrid Sørensen.
At UBI Nordic 2019 they will show an excerpt of their latest work in progress "What's the POINT?", a piece about robotization, adaptation, mental health, and how bodily movement can be used to reveal different conceptions of work. By unveiling different cultural conceptions of work, the piece seeks to better understand how we acknowledge, or fail to acknowledge, the intrinsic value of life.
The Choreologist Home Page
Ingrid Sorensen
What's The Point? at Chateu Neuf during UBI Nordic 2019

Ask Carol
Saturday April 6th at 21.00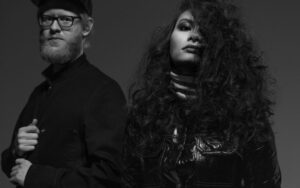 Ask Carol was started in 2016 by Ask and Carol. They have already toured internationally, having played in South Korea, Japan, Philippines, USA (two times at SXSW), Denmark, Sweden and Norway. This Fall they did support for The Brian Jonestown Massacre, Magna Carta Cartel, Anna Burch and more. With front woman Carol's distinctive, dynamic range and badass vocals, this two-piece creates a wall of sound. With their guitars, drums and fuzz-synth, they are a multitasking band, not afraid of pushing musical boundaries. Their music could make you think of bands like The Kills, The XX and Snail Mail, but with a grungy, darker nordic sound. You could call the genre nordic indie-grunge-pop. This winter they will release their first single after their debut EP. Their latest song was just released; "Smiling All Day Long", mixed and produced by the band themselves.
Ask Carol – Home Page
Facebook-Page
Ask Carol at Chateu Neuf during UBI Nordic 2019

Kristine Nilsen Oma
Sunday April 7th at 13.30-13.45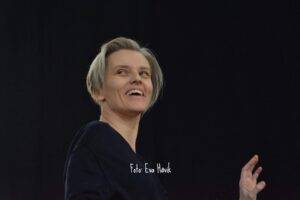 Kristine Nilsen Oma is a choreographer and performer who is chronically ill with a serious degree of ME. She has a long career of creating experimental dance performances. She and her husband Per Rutledal, who is a creative curator, have been contributing to getting the #millionsmissing to Norway and has been doing art activism for people with ME ́and rights for years. Kristine Nilsen Oma is improvising extracts from her work "Please Body Follow" in the meeting with the conference as an audience.
Kristine Nilsen Oma – WordPress

T P Lloyd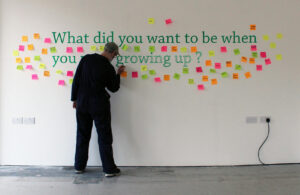 Toby Phips Lloyd is anartist, currently undertaking a practice-based PhD in the Fine Art Department at Newcastle University. His research examines public attitudes to work, the value of free-time and the emancipatory affects Universal Basic Income could have on society. Outside of work he enjoys drinking real ale and listening to The Fall. At the conference he will present his project, Between Eating and Sleeping, which askes three questions that are designed to place the reader in the past, present and speculative future in order to open-up discussions that can playfully explore the value we invest in our everyday activities and the impact they have on our identities.